An Overview Of South Sudan
Boundaries
Sudan to the north, Ethiopia to the east, Uganda and Kenya to the southeast, Democratic Republic of Congo to the southwest and Central African Republic to the west.
Climate
Equatorial climate with high humidity and lots of rainfall. The rainy season varies but is generally between April and November. Temperatures are moderate but vary depending on the season.
Terrain
Mainly plain interrupted every so often by hilly areas with thick equatorial vegetation and savannah grasslands. The country also has mountainous ranges along its border with Uganda. Some of these include Imatong, Didinga and Dongotona, which rise more than 3,000 metres above sea level.
Mineral Resources
Include petroleum, iron ore, gold, silver, copper, aluminium, coal, uranium, chromium ore, copper, zinc, mica, diamond, quartz and tungsten.
Water Resources
The River Nile is the dominant geographic feature in South Sudan, flowing across the country. South Sudan is home to the world's largest swamp, the Sudd, which covers a total area of 30,000 square kilometres.
River Nile is the major geographic feature in Southern Sudan
South Sudanese Flag
Initially used by the Sudan People's Liberation Movement/Army during the liberation struggle, the flag
was adopted as the national flag of the new Republic of South Sudan by all political parties, the
Government of Southern Sudan cabinet and the Southern Sudan Legislative Assembly.
The flag's colours symbolize the following:
Red: Blood that was shed by the liberation struggle martyrs.
White: Peace attained after many years of the liberation struggle.
Blue: Waters of the Nile River, a source of life for the country.
Green: The countries natural resources.
Black: Black African skin.
Yellow: Star guiding the country and its citizens.
Coat of Arms
The prominent feature of the coat of arms is the African fish eagle (Haliaeetus vocifer), which is common in most areas of South Sudan. It symbolizes vision, strength, resilience and majesty. The eagle is leaning against a traditional shield and crossed spear and spade which symbolize the people's resolve to protect the sovereignty of their republic and work hard to feed it.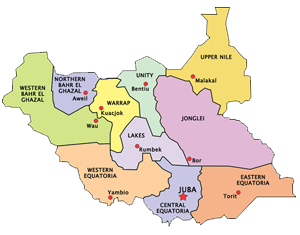 Official Name: Republic of South Sudan
Independence Day: 9 July 2011
President: Salva Kiir Mayardiit
Capital City: Juba
Time Zone: East African Time (GMT+3)
Official Language: English
Currency: South Sudan Pound (SSP)
Population: 8,260,490 (2008 census)
SOUTH SUDAN ANTHEM
In August 2010, South Sudanese were invited to compose a national anthem. After three rounds of competition, University of Juba students won with their lyrics titled "South Sudan Oyee" (Hurray):